Bright Stars of Bethlehem Scholarship Recipients Chosen
The Bright Stars of Bethlehem Scholarship Ceremony was recently celebrated at Dar al-Kalima University on Thursday, September 29, 2022. Each semester, Bright Stars of Bethlehem and Dar al-Kalima University offer multiple scholarships to deserving Palestinian students to support their efforts toward a degree in the fields of arts and culture.
Bright Stars and DAK awarded over 130 scholarships this semester to students from all corners of the West Bank, from Bethlehem to Hebron. 27% of all students at the university were selected to receive scholarships this semester and 63% of the recipients were women. Candidates were selected by a scholarship committee based on a variety of factors, including high school exam scores, grade point average, and economic situation. Read more about a few of the top scholarship recipients below.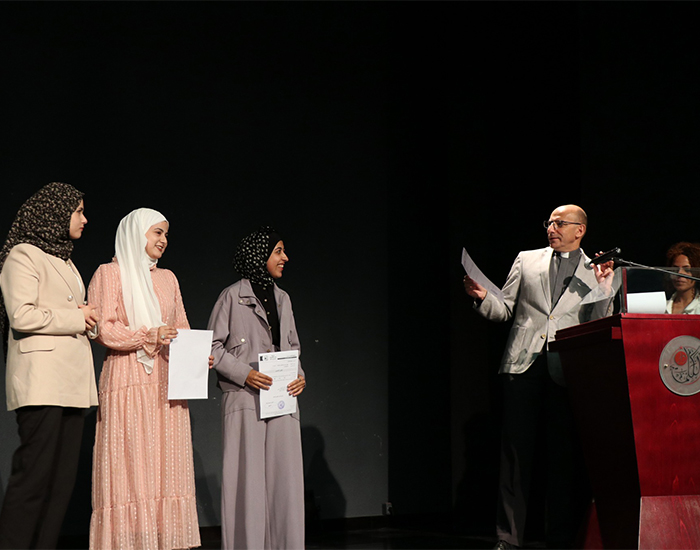 Jihad Masalme
Hailing from Hebron, Jihad is in her third year studying interior design at Dar al-Kalima University. Her high marks in high school earned her a scholarship to Palestine Polytechnic University, where she received a diploma in interior design in 2017 and continues to act as a teaching assistant. Jihad applied to Dar al-Kalima University in 2021 to pursue a BA in interior design after hearing about the university from other interior design students and researching it thoroughly online. Even though her commute is two hours each way, Jihad still wakes up excited in the morning knowing she will come to class at Dar al-Kalima University. The school is special to her because of its innovative teaching methods and diversity of subjects offered. She especially appreciates the serene atmosphere and the creative students from other fields. Graduating in two years, Jihad hopes to one day move to Italy to be at the forefront of the interior design movement. She spends her spare time volunteering at the Palestine Red Crescent Society and keeping in touch with her three siblings, who have each earned university degrees.
Hadeel Ahmad
Hadeel is in her final year studying graphic design at Dar al-Kalima University while raising two girls with her husband in Beit Jala. Hadeel's high school experience proved challenging when she lost her mother to cancer in the twelfth grade. Forced to look after her five younger siblings, Hadeel still managed to earn high marks on her exams and started university in Hebron after high school. She took a break from her studies to give birth to her children in 2019, but soon resumed school at Dar al-Kalima University in 2021. Being the only university that offers graphic design in Palestine, Hadeel knew that she wanted to follow her passion and enroll in the arts and culture university despite the pressures of raising two young children. Dar al-Kalima University's comforting atmosphere and relaxing garden motivate Hadeel to excel in a field she loves. She feels healed by the university and says it is a joy to be grounded in such a creative space. For her final project, Hadeel is interested in making an animated film focused on the impacts of psychological trauma in honor of her experience losing her mother.
Fatima Hamareh
At twenty-two years old, Fatima is in her fourth year of university studying graphic design. Her time at Dar al-Kalima University began when she and her sister visited the campus in high school and immediately felt at home. Given Fatima's high marks in high school, she had many opportunities to explore other careers, but was most interested in pursuing the arts. Her parents supported her endeavors and she began studying at Dar al-Kalima University in 2020 with a scholarship. With the religious diversity of students and practical teaching methods, Fatima says she wouldn't change a thing about the university. Creative expression is her passion and she wants to encourage others to participate in the field. Fatima is even considering focusing on this concept in her final project, where she would inspire children to follow their dreams and pursue their authentic interests. Following graduation, Fatima is looking to attain a masters degree and potentially become a teacher of graphic design, ideally at Dar al-Kalima University. She would like to express her gratitude and appreciation for the support of the university and Bright Stars of Bethlehem, which motivate her to do her best work.