About the Faculty of Engineering and Design
The Faculty of Engineering and Design is an innovative, professional, and entrepreneurial faculty with a commitment to advancement and sustainability. In the year 2021, Dar al-Kalima University was accredited as a full-fledged University at the national and international levels. The Faculty of Engineering and Design is now well recognized and positioned in Palestine and other parts of the World. The faculty offers a bachelor's degree across Four Programs, architectural engineering, the design (production and fashion Design), the Interior Design, and Graphic Design that are professionally oriented and developed with significant academic and research disciplines.
Our degree programmes are accredited by the Ministry of Higher Education in Palestine. We prepare our future graduates through strong academic degree and professional education programmes. All programmes require integrated learning where students are engaged in active learning pedagogies including a strong focus on project-based learning involving real problem solving for the Palestinian and regional businesses, productions, and professions.
Our vision
To become a leading faculty in higher education and research acknowledged for creative work-ready graduates with strong industry integration and global orientation.
Our mission
The mission of the Faculty of Engineering and Design is to cultivate and sustain an environment at Dar al-Kalima University that increases the diversity of knowledge, deepens design imagination and creativity, and advances a sense of affiliation among students and faculty, along with the extended Palestinian community.
The faculty main objectives are:
-To provide high quality design and professional education and impactful research through strong community collaborations and global outreach.
-To be known for our professional, innovative, and entrepreneurial approach.
-To foster an institutional culture that inspires innovation, achieves continuous improvement through building mutual trust, teamwork, and is responsive to change.
Academic Programs:
BA in Architectural Engineering
Message of the Dean
Prof. Dr. Eng. Nael A. Salman - Dean of the Faculty of Engineering and Design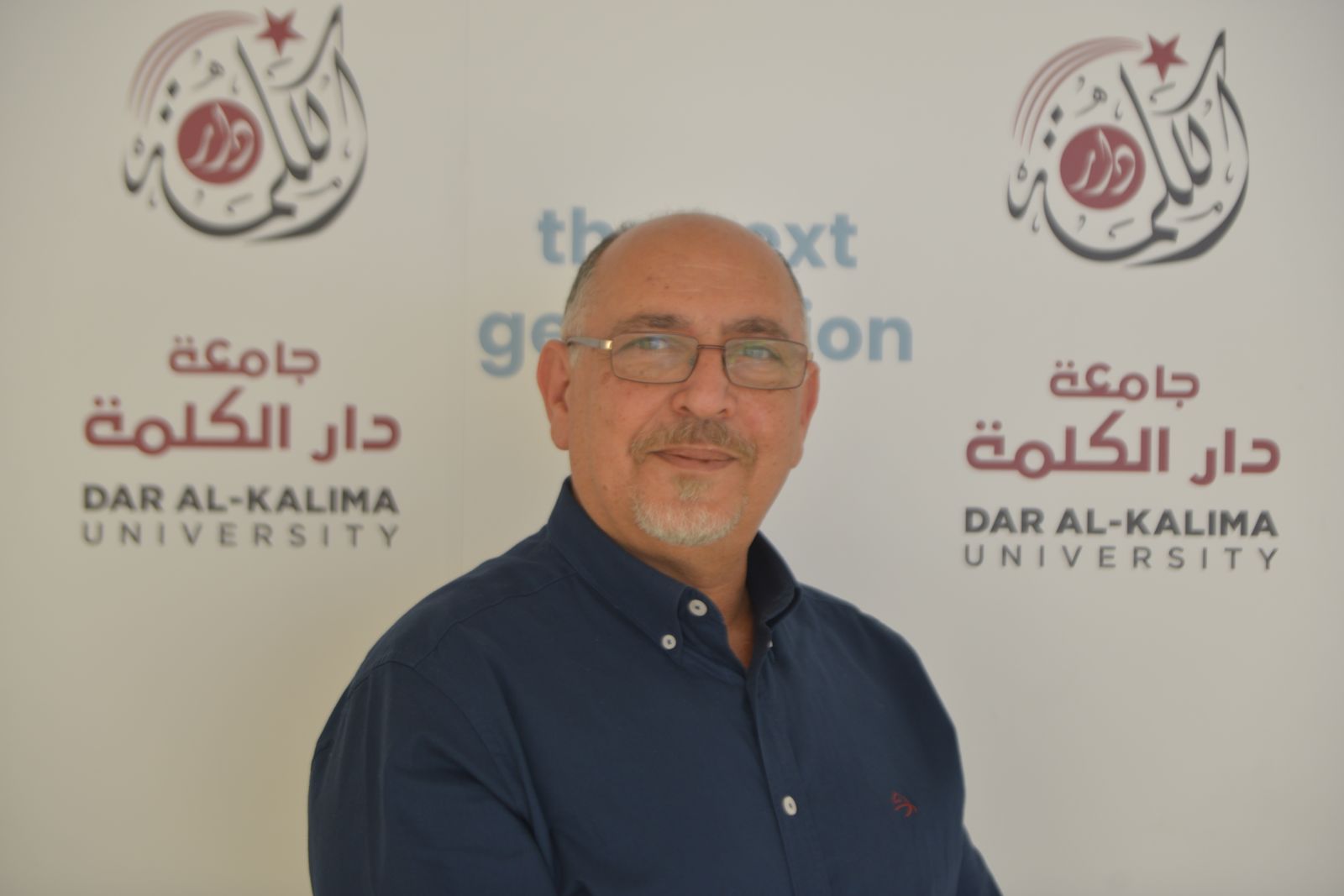 At the Faculty of Engineering and Design, we help our students to understand the art of thinking and making interactions between people and ideas that relate to design interventions as we believe that education can actualize creativity and innovation. This can be actualized through proper understanding of the built environment where our students actively take part in actualizing design, to create a better living environment and come up with innovative digital solutions for a more enjoyable world. We also aim to develop a new sense of hope, community, beauty, and faith. These words constitute the main pillar of our faculty to build up an interdisciplinary design approach between our 4 major design programs.
We currently offer degree programmes in architectural engineering, production and Fashion Design, Interior Design, and Graphic design. We believe this special mix of Degree offerings in our faculty gives us a unique identity actualizing multidisciplinary synergies. The Faculty of Engineering and Design vision is to become a leading college that promotes creativity, practicality, and learning; we foster new talents for the creative industries and contributes to development of the related industries in Palestine. Situated in the city of Bethlehem, the Faculty of Engineering and Design embraces the complexities of our unique history and culture. The cultural heritage of our city indeed serves as a cradle for our students' potential as designers of possibilities. At the Faculty of Design, we aim to position our students at the forefront of their disciplines through thoughtfully designed curriculum and to initiate them into the life-long learning process. Our emphasis of teaching through vertical and lateral thinking modes will equip our students with specific strengths in their respective discipline as well as flexibility and growth potential to meet the many challenges in any career path they choose.
In September 2021, when I was honored to become the first dean of the faculty of design, I dedicated myself as well as our program coordinators, and teachers to contribute to the advancement of this faculty to become one the best higher education faculties in design. Our student body and academic faculty members are now flourishing to advance our design creative culture. This growth brings diversity to our design courses and innovation to the curriculum, making our students more creative with richer knowledge, preparing them for a bright and better future.
Contact Us
Phone: 02-275 7028
Email: nsalman@daralkalima.edu.ps