The President of Palestine Awards Rev. Prof. Dr. Mitri Raheb The Star of Bethlehem of The Order of Bethlehem
Rev. Prof. Dr. Mitri Raheb, founder and president of Dar al-Kalima University, was recently awarded the Bethlehem Star of the Order of Bethlehem in recognition of his role in spreading the Palestinian story, promoting it in international forums, and in appreciation for his efforts in creating spaces for culture, arts, and creativity in Palestine.
President Mahmoud Abbas praised the role of Rev. Prof. Dr. Mitri Raheb in transmitting the Palestinian reality to the world, his efforts in discovering Palestinian artistic, cultural and creative talents, and refining young Palestinian individuals.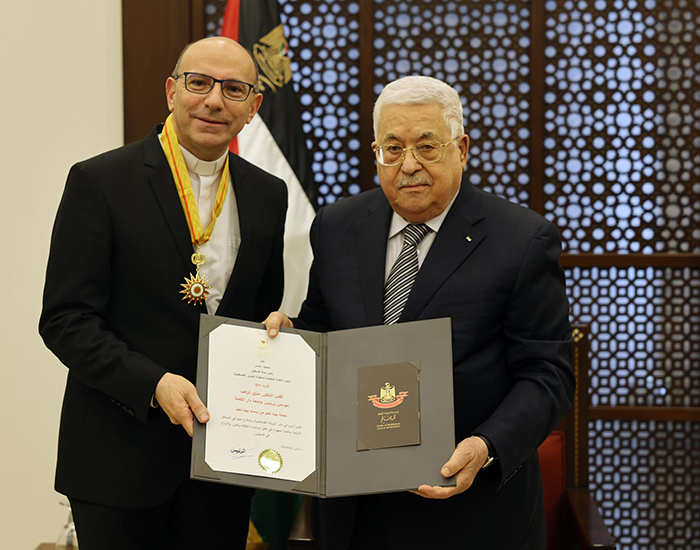 The President of the State of Palestine Mahmoud Abbas awarded the Bethlehem Star from the Order of Bethlehem, in addition to awarding a number of Palestinian community and religious leaders the Jerusalem star from the Order of Jerusalem and the Bethlehem Star from the Order of Bethlehem. He recognized their efforts in promoting and preserving the Christian presence and contributing to the transfer of the Palestinian narrative to the world.
It is noteworthy that Rev. Prof. Dr. Mitri Raheb has received several international and prestigious awards, including the German Media Award, the Olof Palme International Award (usually awarded to heads of state and considered to be one of the most important awards in the world), and the "Prestigious Ring of Tolerance" Award, a European academic award, for his contribution to promoting justice, peace and tolerance in the world.
The Order of the Star of Bethlehem of the Order of Bethlehem is one of the highest Palestinian decorations awarded by the Palestinian President to presidents, kings, senior clergy, governors, members of parliament, representatives of Palestinian and foreign parties, and prominent Palestinian, Arab and foreign individuals who have provided significant services to Palestine.