Dar al-Kalima University Launches International Entrepreneurship Week Activities
Dar al-Kalima University and the Rami Zahi Khoury Incubator for Entrepreneurship and Innovation in Bethlehem have launched the Global Entrepreneurship Week - Palestine, with the first workshop "Social Entrepreneurship in The Field of Arts and Culture". This session was done in coordination with the Build Palestine Foundation, which is specialized and leading in developing and supporting entrepreneurial initiatives in community work.
The workshop was opened by Dr. Inas Deeb, Director of the Innovation and Entrepreneurship unit at Dar al-Kalima University, during which she welcomed the participants, saying: "Today we are opening the activities of the International Entrepreneurship Week for the first time at Dar al-Kalima University, and the first workshop focuses on combining entrepreneurship with arts and community entrepreneurship, developing entrepreneurial projects, and focusing at the same time on the sustainability of moral, material and community projects."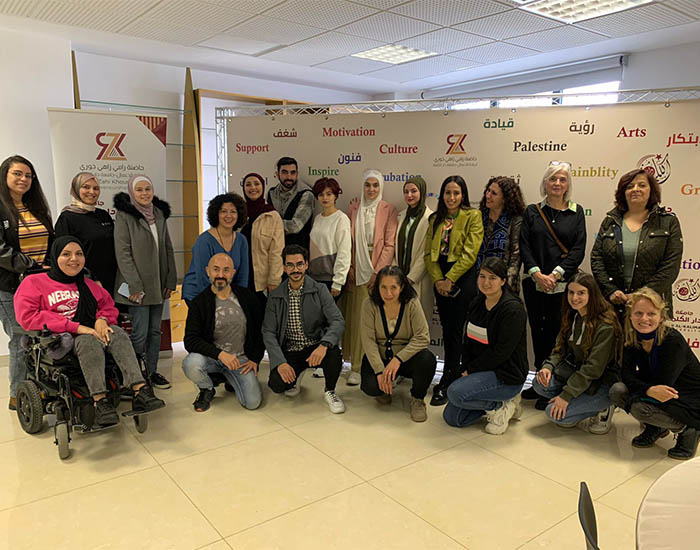 The workshop was presented by Ms. Lama Omar, executive director and founder of Build Palestine Foundation. The workshop focused on the importance of community work, as it aimed to identify distinctive initiatives in the fields of arts that have community entrepreneurial effects, while also describing the strategies for successful work in the development of a community art entrepreneurial project. Ms. Omar further encouraged participants to join the Rami Zahi Khoury Incubator for Entrepreneurship and Innovation to embark on a distinctive journey to develop a new entrepreneurial project.
During the workshop, Al-Riyadi Awad Hamad, a graduate of the Bachelor of Film production program at Dar al-Kalima University, spoke about his experience at the Rami Zahi Khoury Incubator for Entrepreneurship and Innovation and receiving an award for the implementation of his entrepreneurial project entitled "Remote Art". The idea of his project was based on teaching children in villages and marginalized areas drawing, photography, film, and folk arts to discover their artistic talents and educate them according to an action plan developed by multiple art programs.
The entrepreneur Rani Sharbati, a student of the Master of Arts program at Dar al-Kalima University, also spoke about his pioneering project entitled "Murtasim Art Studio". This art project aimed at providing a creative environment for the production of works of art, workshops and various discussions in the field of culture and arts while also providing a special space for Mr. Sharbati to implement a personal project of producing works of art and displaying the stages of production for visitors.
The workshop concluded with the participants' questions, observations, and recommendations on the topics raised.