Bethlehem Student Film Festival Write Up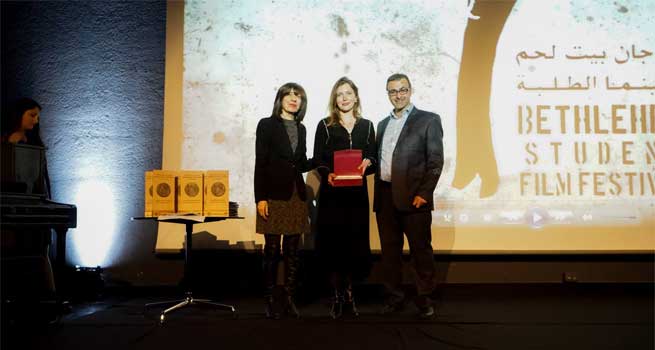 The gallery downstairs at the Dar al-Kalima University College of Arts and Culture has been transformed into an area fit for a cinematic awards show – which, after all, it is. A large banner reads "Bethlehem Student Film Festival;" student filmmakers and audience members alike pose on the red carpet in front of the sign, which features a slingshot pulled back and ready to launch its load, in this case a roll of film. Cameras flash as the students laugh and strike poses both silly and serious. Around the room, small clusters of people gather and chat animatedly in several different languages about the many films that they have seen this week.
This film festival, however, is not like the many awards shows that focus on films that make us laugh or cry, films for entertainment's sake. The opening of the Bethlehem Student Film Festival occurred concurrent with the celebration of Land Day in Palestine. This, explains Dr. Andoni, was not a coincidence. The Bethlehem Student Film Festival is part of a vision that seeks to create an artistic movement dedicated to the establishment of a conscious and committed civil society. "It is a result of our vision of cinema as an instrument of resistance, like all other forms of art," explained BSFF organizer and director Saed Andoni. "We at Dar al-Kalima are driven to produce a new generation of professional filmmakers aware of the events and surround them and capable of translating their thoughts and feelings into art through film."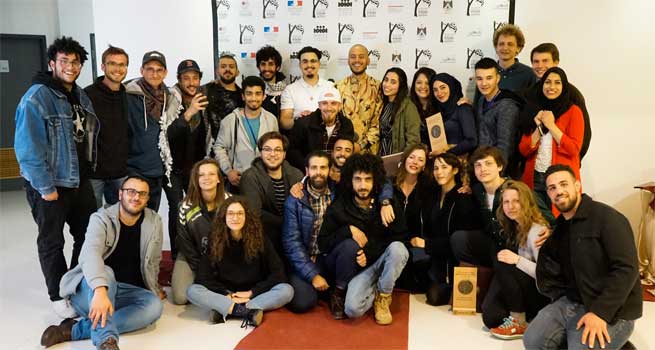 The aura surrounding the festival, therefore, was not simply one of entertainment and exuberance, but also one of hope and committed resistance. It is an insistence on life, a declaration of the kind of life the filmmakers want to see, and a critique of the society and situation surrounding them that prevent this reality from coming into full existence.
Dar al-Kalima President Rev. Dr. Mitri Raheb noted in his opening remarks, "This is an opportunity to make Bethlehem the cultural crown of Palestine, a center for cultural and artistic exchange…We want to make this city a window through which we can see the world."
The Bethlehem Student Film Festival is the first of its kind in Palestine, bringing together artists from all across the world. In total, 16 different countries and 18 different schools of cinema and the arts were represented by the filmmakers and artists at the festival. This provided unparalleled opportunities for the exchange of cultures and ideas and the fostering of open-minded and creative young leaders.
The film festival lasted a full week, from 6 April to DATE April, and included daily film screenings of both local and international student films. In total, more than 70 films were screened at the Bethlehem Student Film Festival, spanning many genres, including documentary, experimental, and fiction films. This provided Palestinian audiences and their international companions the opportunity to experience a selection of significantly varied films and to discover the vibrancy of student cinema.
Furthermore, Dar al-Kalima, through the Bethlehem Student Film Festival, seeks to equip the next generation of leaders and artists with the tools that they need to succeed in a professional environment. To that effect, a series of workshops were led by professionals from across the globe on topics including film distribution and funding acquisition. The capstone of these sessions was a three-day practicum on cinematic lighting and photography techniques led by French film director Gilles Port.
At the conclusion of the festival, festival leaders awarded six prizes in three different categories for both local and international films. These prizes recognized the highest levels of artistic achievement among global student filmmakers.
Exit, the winner of Best Palestinian Experimental Film, explored the feelings of a young Palestinian woman deeply connected to the souls of Palestinians buried in the Mamilla Cemetery, where the Israeli Occupational Forces have confiscated more than 90% of the land for commercial development. The film, directed by Alaa al-Dayeh, revolves around the young woman's attempts to draw the souls out of the ground and ends with their return to rest in what remains of the sacred ground.
The winner of the Best International Experimental Film also explored themes of colonialism and occupation. William Sellers' Specialised Technique utilizes the framework and techniques of "colonial cinema," including slow edits, camera tricks, and minimal camera movement. While many films have been made utilizing this construct, Specialised Technique attempts to reclaim and reconstruct the techniques in order to bring the material from studied spectacle to full and vibrant life.
Muhammad Shalodi's Wa'ad won the prize for Best Palestinian Documentary Film, exploring complex ideas of Palestinian identity and solidarity. Wa'ad, a young student at an Israeli university studying photography, and a maqdisi – a native Palestinian resident of Jerusalem. When she enrolled in university, Wa'ad chose to remain separated from politics, but her colleagues' sidelong glances haunt her daily. She begins to incorporate her identity into her work, until the city of Jerusalem is shaken by a political event. After taking photos at the event, Wa'ad notices that the Occupation Forces are trailing her every move. From then on, Wa'ad retreats to demonstrating her identity indirectly through her artwork.
The film 562 Meters, directed by Michal Wojtasik, was awarded the prize for Best International Documentary Film. Describing his own film, Wojtasik writes: "Mornings are all alike: she has a lot to do on the surface, and they have a lot to do there - in the belly of the earth. She is as their mother, clothing them and waiting for them to return. Down there they become somebody else, and must return to reality upon departure. This is an incredible journey to another planet, showing an unusual relationship between two different worlds."
Salah Abu Niema's Area C won the prize for Best Palestinian Short Feature Film. It tells the story of Hussein, a young Palestinian boy trying to protect his home and his family from the nightly attacks of Israeli settlers. Hussein and his family live in Area C, a Palestinian area in the West Bank surrounded by Israeli settlements and controlled by the Israeli military.
Many of the films also dealt with political issues that are in the spotlight today, including the refugee crisis in the Mediterranean. Antonio Messana's Rousseau: A True Lie about a Fisherman, the winner of Best International Short Feature Film, tells the story of Clemente, an old Sicilian fisherman who continues to work despite his age. One day, however, his life is disrupted when he finds the body of a young refugee tangled in his fishing nets.
Two additional films were given honorary mentions by the panel of esteemed judges. Shayma' Awawdeh's The Fourth Floor tells the story of a young woman who leaves her family home seeking privacy and independence, but discovers the unexpected waiting for her as she slowly moves her things to her new fourth floor apartment using the elevator. Azedine Kasri's Territories follows Ibrahim, an Algerian mechanic living in France who dreams of moving to America with his young son. While trying to obtain a French passport, Ibrahim runs into trouble with the police and has to seek shelter within the Algerian community in Paris. There he begins a quest for his identity that will lead him back to Algeria.
Speaking on the importance of this festival at the opening ceremony, Dar al-Kalima film student Rana Shakheidem noted: "We are the generation that grew up without access to cinemas and without this type of local film festival, and we managed to produce short films, documentaries, experimental films that compete at an international level." The success of the Bethlehem Student Film Festival reflects the success of Palestinian students, who thrive and live with hope despite the political situation that surrounds them.
The Bethlehem Student Film Festival was sponsored by the Arab Fund for Arts and Culture, the French Consulate General in Jerusalem, the Office of the Polish Republic in Ramallah, and the General Authority for Radio and Television – Palestine Television. Dar al-Kalima University College of Arts and Culture is the first Palestinian institution of higher education to focus on the visual and performing arts, Palestinian heritage, and design. Encompassing a number of Bachelors' Degrees and Certificates in a variety of disciplines, Dar al-Kalima works to develop the skills and talents of its students to be ambassadors of their culture and civilization and to create a future that is more creative, vibrant, and just.