Interview with Ellia Khair
Interview with Ellia Khair
Chef Ellia Khair has loved sweets since he was a child, growing up in Beit Sahour, Palestine. This passion for cooking and eating led him to pursue an education in culinary arts after he graduated from secondary school. The best place to get that education? Dar al-Kalima University College of Arts and Culture, in Bethlehem, Palestine. "Everyone knows Dar al-Kalima," Chef Ellia explained when asked about why he chose to attend the University College, "it has an extremely high level of education."
At Dar al-Kalima University College, Chef Ellia explored courses on food safety, hosting and hospitality, international cuisine, pastry, and more. The professors, he emphasized, made all the difference in his educational experience, offering interesting and engaging courses on a variety of different topics.
Chef Ellia graduated with a diploma in Culinary Arts from Dar al-Kalima in 2015, and continued to pursue educational courses at the Royal Academy in Jordan, Bethlehem University, and the Dubai Chocolate Academy. "Dar al-Kalima put me on the path to culinary arts and allowed me to develop these important culinary skills, which I use every day," the chef asserted.
Today, Chef Ellia is the Executive Chef at the newly-opened Paradise Premium Hotel in Bethlehem. He still has a passion for sweets and desserts, but the chef is also in charge of the restaurant's savory menu. One way Chef Ellia is developing his own unique style of cooking is by combining Palestinian and Arab flavors and ingredients with European techniques and dishes. The chef's travels to Italy, representing Palestine and Dar al-Kalima University College in the International Couscous Festival in Sicily, as well as his courses in International Cuisine at the University College inspired him to explore hybrid dishes and techniques in his own cuisine.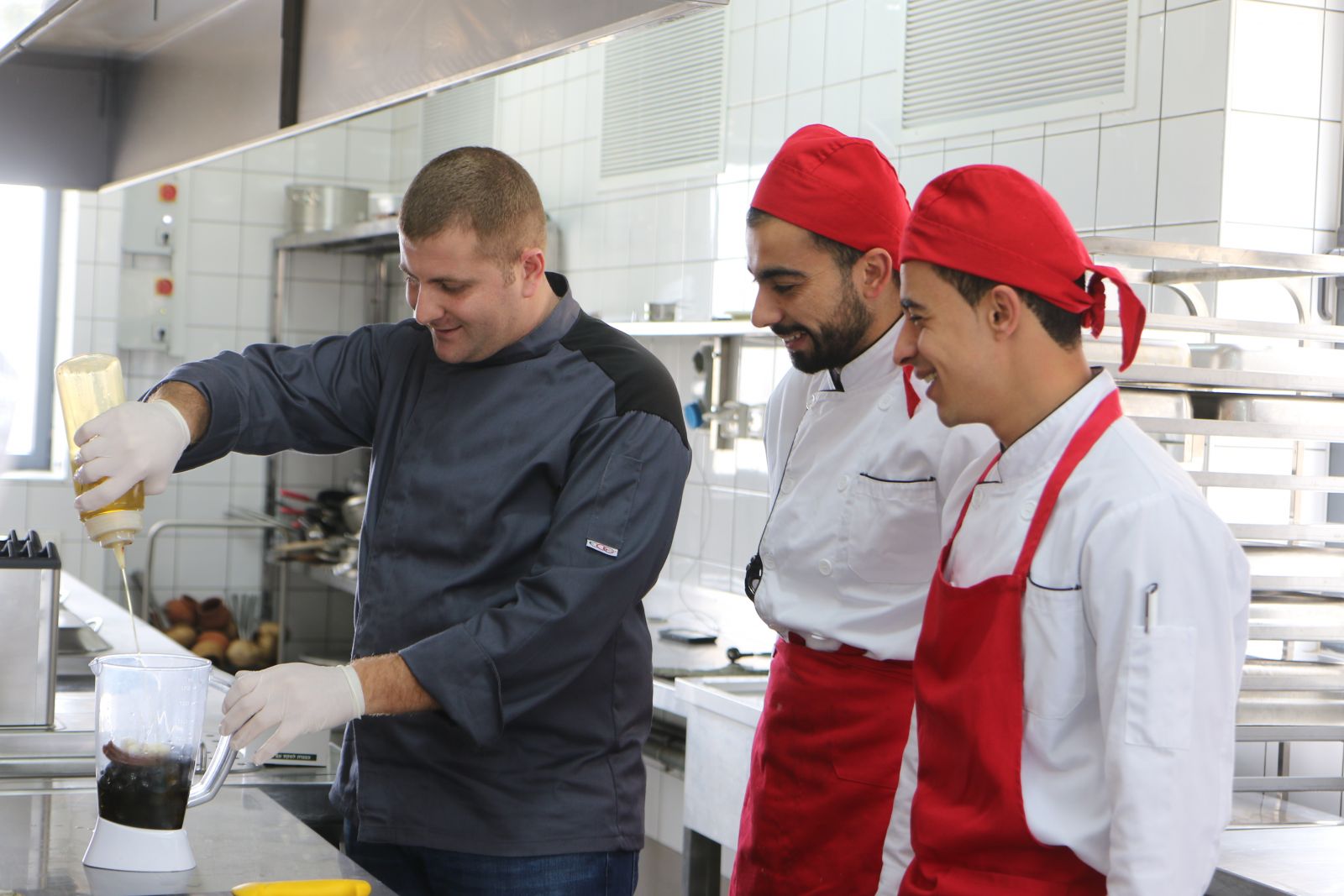 Now, the chef's favorite food to cook is a cuisine he calls "Arabic-Italian." Examples of this amalgamated cuisine include freekeh salads loaded with seafood or Italian cheeses, chocolates laced with cardamom, kanafe dough drenched in caramel made with Arabic spices, halva with Arabic gum and pistachio cake, and chocolates stuffed with jasmine-tea infused ganache.
Working alongside a team of other Palestinian culinary artists, Chef Ellia Khair constructed a maqlouba risotto for Pope Francis's visit to Jerusalem. Maqlouba is a traditional Palestinian dish usually made of rice, chicken, and vegetables such as cauliflower, tomatoes, and eggplant. The dish provided to the Pope celebrates Palestinian heritage while also including innovation and a global perspective, two things Chef Ellia is passionate about.
In addition to his duties as the Executive Chef of the Paradise Premium Hotel in Bethlehem, Chef Ellia also takes the time to return to Dar al-Kalima University College of Arts and Culture, this time as an instructor. Chef Ellia teaches International Cuisine to the next generation of Palestine's great chefs, sharing his passion for global food. "The students here are very committed to learning and exploring new ideas," he said admiringly of his work at the college, which provides him with an opportunity to give back to the university that gave him his start.
When asked where he would like to be in five years, Chef Ellia simply shrugged and replied, "Better than now, of course.